WHO WE ARE
Heydarian Law is a full-service law firm that is dedicated to simplifying the law and providing strategic solutions for all of its clients personal and business needs. The firm is committed to providing quality legal services in a timely and cost-effective manner.
The firm's areas of specialty include: Real Estate Law, Litigation (Civil & Commercial), Corporate Law (including Trademarks), and Wills & Estates (including Estate Administration). We are trained to advocate and negotiate on your behalf in order to resolve your legal issues effectively.
1. Simple
We believe that the legal system does not need to be an intimidating or complicated space and we are dedicated to simplifying the law in order to allow our clients to be fully informed of the process. We are willing to sit down with you for a free consultation before you hire us and during this consultation we will A) provide a detailed overview of the legal process or issues at hand, B) provide a break down of the legal fees and costs for service, C) provide an estimated timeline for the completion of work. By keeping the process simple, we can ensure that the client will be fully informed and involved in the process from start to finish.
2. Strategic
We offer innovative legal strategies to meet all of our clients' needs, from a simple real estate transaction to a complicated litigation dispute. Because we are experts in litigation we know how to implement effective problem-solving techniques to ensure you arrive at the best possible result in the most efficient and cost-effective way possible. In order to keep our clients happy, we always strive to reach a speedy and favorable resolution to their case.
3. Solutions
We are always working hard to ensure that we find the best possible solution for your specific needs. By engaging in a detailed analysis of your case, conducting meticulous legal research, and negotiating with the other side, you can be sure that we will leave no stone unturned and always work with you to arrive at the most effective solution. For this reason, we regularly consult with our trusted network of accountants, business advisors, and financial experts to arrive at the most effective and efficient solution. If you hire us to take on your case, we will work in collaboration with other experts in the field to come up with a holistic and customized solution to meet your unique legal needs.
MEET THE TEAM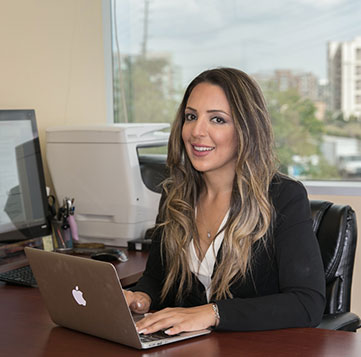 ZIBA HEYDARIAN
The firms founder, Ziba Heydarian, completed her Juris Doctor Degree at Osgoode Hall Law School and holds an Honors Bachelor of Science from the University of Toronto in Human Biology and Ethics, Society, & Law where she graduated with high distinction. Prior to establishing Heydarian Law, Ziba gained invaluable experience working in the private sector as well as clerking for the Federal Court of Canada. While clerking for the Federal Court, Ziba developed a keen understanding of the judicial decision-making process and learned how to effectively advocate on behalf of her clients in a courtroom setting. Prior to this, Ziba received extensive litigation training working at one of the leading Personal Injury law firms. She later joined a mid-size law firm in Ottawa where she was the head of the litigation department.
At Heydarian law, Ziba's practice focuses on civil & commercial litigation, real estate law, corporate law, and wills & estates. Ziba's experience working on a wide variety of legal issues ranging from estates litigation to trademark infringement disputes has provided her with a unique ability to understand clients' diverse needs and arrive at creative solutions to their problems. Her extensive litigation training makes her an excellent negotiator and she is able to anticipate problems before they arise. She implements various risk-management techniques when drafting documents and providing advice to corporate clients for their business ventures. Applying her desire to help others and her extensive advocacy experience, Ziba works passionately to assist clients through difficult times.
Ziba is a board member of the Iranian Canadian Legal Professionals (ICLP) organization, as well as a member of Toronto Lawyer association, Advocates Society, the Canadian Bar Association, Legal Shield, and the Law Society of Canada's Referral System. In her free time, Ziba enjoys playing tennis, cycling, swimming, doing yoga, and travelling to different corners of the world. You can reach Ziba at (1800)582-4529 or by email at ziba@heydarianlaw.com.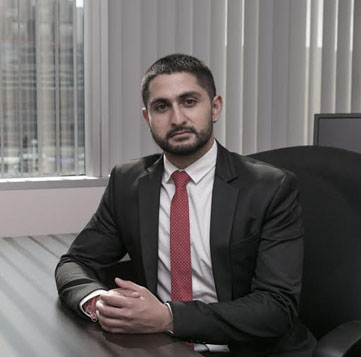 SAHIL RAZDAN
Sahil Razdan is an Articling Student at Heydarian Law. Sahil completed his Juris Doctor at Western Michigan University, where he graduated Cum Laude. Prior to joining Heydarian Law, Sahil worked at a number of law firms where he assisted in a wide variety of litigation matters. He has extensive experience in the areas of civil litigation, employment law, personal injury, criminal, corporate and real estate law. Sahil also has experience working at the Crown Attorney's office where he assisted a team of Crown Attorneys and City of Toronto Detectives to successfully convict an assailant on homicide charges. Sahil's broad range of experience allows him to successfully and confidently assist clients in achieving their desired goals.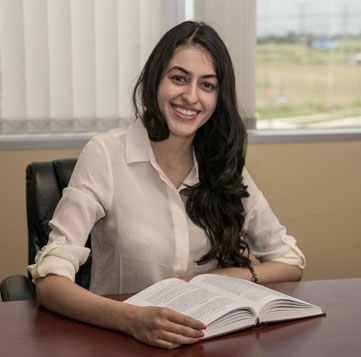 ELHAM HADIAN
Elham Hadian is an Articling Student at Heydarian Law. Elham completed her Juris Doctor from the University of Ottawa. Prior to joining Heydarian Law, Elham interned at several law firms where she learned the fundamentals of real estate law and wills & estates. During her internship, Elham dealt with a variety of legal matters ranging from drafting wills and preparing various legal documents to attending Small Claims Court. During her term at Heydarian Law, Elham has mastered the fundamentals of litigation and has gained valuable experience working on various Small Claims and Superior Court matters. Elham's diverse experience has given her the ability to successfully deal with a variety of different legal matters and meet client's needs in the most efficient and effective manner possible.